Former payday lender Cheque Centre in administration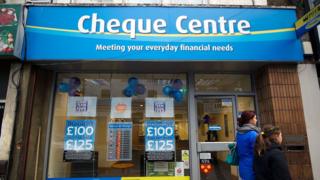 A company that was once one of Britain's biggest high street payday lenders has gone into administration.
Edinburgh-based Cheque Centre agreed to withdraw from the payday loans market in 2014 after pressure from regulators.
The last of its remaining branches closed last year, with the company focusing on its Square Today online services.
Anthony Collier and Tom MacLennan from FRP Advisory have been appointed joint administrators.
They said that despite moving to an online business, the company experienced cash flow problems due to ongoing liabilities from the time when it operated high street branches.
Mr Collier said: "Cheque Centre was in the process of emerging from its legacy business with its Square Today online platform, however, in its current form the business could not sustain its ongoing costs and meet its historical liabilities."
The company's 11 staff are being retained while the administrators assess the options.
At one time Cheque Centre was the UK's second largest high street payday lender - but faced criticism over the way it treated customers.
It agreed to concentrate on other financial services and suspend all telephone calls to customers who owe money, following an agreement with the Financial Conduct Authority (FCA).