BrewDog to give away 20% of profits each year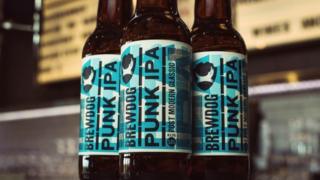 Aberdeenshire-based craft brewer BrewDog is to give away 20% of its profits each year, the company has announced.
BrewDog said 10% would go to charity and the other 10% would go to its team.
The company said it could mean giving away more than £45m over the next five years through its Unicorn Fund.
The sometimes-controversial firm has grown rapidly from its founding, with a £20,000 bank loan, in Fraserburgh in 2007.
A major deal with Tesco was the breakthrough for founders James Watt and Martin Dickie, who were awarded MBEs last year.
In April, BrewDog became worth more than £1bn after selling a stake to a US private equity firm.
'Create a blueprint'
Mr Watt said of the annual profits giveaway: "We want to be the best company to work for, ever.
"We are going to be giving away 20% of our profits, for ever - 10% distributed evenly amongst our teams, and the other 10% we are going to donate to charity annually.
"We want to create a blueprint for a completely new type of 21st Century business."
BrewDog - now based in Ellon - has attracted controversy over the years.
In 2009, a beer called Speedball was criticised amid claims it promoted the drugs mix that killed actors John Belushi and River Phoenix.
Later, a low-alcohol beer called Nanny State was launched by the company after being branded irresponsible for creating the UK's "strongest beer".
BrewDog's Tokyo had an alcohol content of 18.2%.
And in 2010, BrewDog said it had reclaimed the title of the world's strongest beer from German rivals - with Sink the Bismarck at 41%.
It had unveiled a 32% beer called Tactical Nuclear Penguin. However, Schorschbrau then released the 40% strength Schorschbock, before BrewDog hit back.
BrewDog opened its first pub in Aberdeen in 2010, and is now expanding around the world.