Scotch whisky lifts food and drink exports to Japan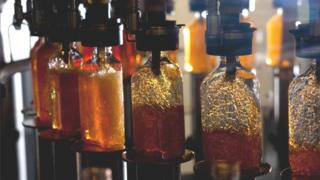 A growing taste for Scotch whisky has helped Scottish food and drink exports to Japan reach record levels, according to new figures.
Export data showed the overall value of food and drink sales to Japan rose by 9% in 2015 to £98.7m.
Whisky exports increased by 18% to £75.8m, making the nation Scotland's 14th largest market for whisky.
The figures were highlighted by External Affairs Secretary Fiona Hyslop during a trip to Tokyo.
Speaking at a Scottish food and drink fair in the Japanese city, Ms Hyslop said: "Scotland has a fantastic larder of some of the world's best natural produce, a flair for innovation and a long-standing reputation for producing top-quality food and drink, so it is no surprise our food and drink industry is enjoying significant success in the Japanese market."
She added: "We are committed to building on this success and strengthening relationships with major food distributors and retailers across Japan."