House prices in Scotland continue slow rise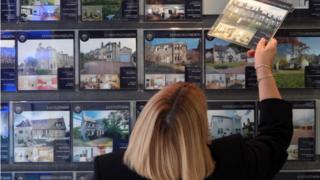 House prices are rising in Scotland as the shortage of properties for sale continues to restrict the market, according to a survey.
But the The Royal Institution of Chartered Surveyors (Rics) said Scottish house sales in January were still "lacking momentum".
New buyer inquiries were almost unchanged, with only 4% of surveyors reporting an increase in demand.
UK Residential Market Survey also showed a fall in new instructions.
Predictions of growth in Scottish house prices slipped marginally in January, with 30% of respondents reporting a rise rather than a fall - down from 32% in December.
The report said a key factor for this was the lack of supply, but it reiterated prices were expected to rise across Scotland over the next three and 12-month forecasts.
Simon Rubinsohn, Rics chief economist, said: "The scale of the challenge the UK government faces as it announces its new approach to housing is clearly demonstrated in the results from our latest survey.
"Not only are the headline price and rent series pointing to further increases over the course of this year, but more significantly, the medium term view of Rics professionals working up and down the country is that both house prices and rents will, over the medium term, continue to grow at a faster pace than wages putting even greater pressure on affordability.
"Whether the measures announced can ease this this trend remains to be seen."