Scotgold applies to extend ore processing trial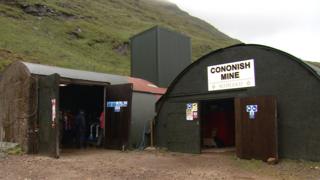 Mining company Scotgold Resources has applied to extend an ore processing trial in central Scotland.
The firm was granted permission in May for a small-scale pilot plant to crush 2,400 tonnes of ore stockpiled at Cononish near Tyndrum.
It has now asked the Loch Lomond and Trossachs National Park Planning Authority (LLTNPPA) to give it time to process the rest of the stockpile.
That amounts to about 4,800 tonnes of additional material, it said.
Scotgold were initially given permission to run the bulk processing trial (BPT) over a nine-month period.
It has now applied to extend the trial to early 2018.
'Progressing well'
In a statement, the Australia-based company said: "This initial BPT is progressing well and is scheduled for completion within the permitted timeframe.
"More importantly it has identified potential opportunities to further enhance the economics of the full-scale operation.
"As it will take some time to fully explore and assess these opportunities, and to make full use of the existing pilot plant, the company considers it worthwhile to extend the period of the BPT.
"Accordingly an application has been made to the LLTNPPA to extend BPT operations to the end of March 2018."
'First pour'
Scotgold launched the processing trial earlier this year, targeting "first pour" production of between 400 and 600 ounces of gold during the initial trial.
The company is seeking to persuade potential investors to back larger-scale production at Cononish.
It has estimated that several tonnes of gold could be extracted.
Last month, the first gold from the mine was sold at auction in Edinburgh.
It was sold in "rounds" stamped with the Scottish Gold Mark and a unique serial number.
The average price was about £4,557 per ounce.