Markit finds Scotland 'lags UK' in jobs market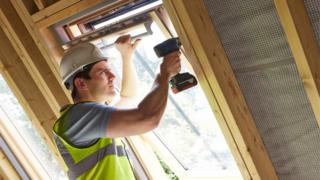 Scotland's jobs market performed worse than the rest of the UK last month, according to a survey of recruitment firms.
The latest Markit Report on Jobs indicated a slight fall in the number of people placed in permanent jobs.
By contrast, the UK saw the fastest rise in placements since February.
Salary growth north of the border also remained below the UK average, while agencies saw a drop in temporary staff billings for the third straight month.
However, November's survey showed a rise in demand for staff at Scottish recruitment consultancies, with nursing/medical/care, engineering and construction and hotel and catering seeing particularly strong growth.
Demand for permanent staff increased across sectors, while the only category to see a fall in temporary vacancies was executive and professional.
While demand for staff continued to rise, recruiters recorded a further deterioration in the availability of candidates for permanent vacancies. The rate of decline was the fastest seen since August.
However, the availability of candidates for temporary jobs continued to improve, rising for the sixth month running, which contrasted with the trend seen across the UK as a whole.
Kevin Green, chief executive of the Recruitment and Employment Confederation, said: "Overall, the UK jobs market is ending the year on a high, with appointments and vacancies at levels not seen since February.
"In Scotland the picture isn't quite as positive as the rest of the UK, with permanent and temporary placements recording a decline for November.
"However, the rise in demand for staff shows that businesses continue to seek growth in their workforces."