Cloud firm Iomart posts strong first-half results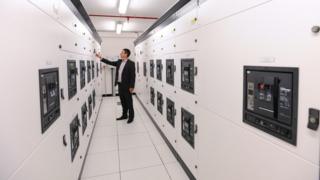 Scottish cloud computing firm Iomart has reported a strong first half to its financial year, after building closer links with big public cloud providers.
The Glasgow-based company saw revenue grow by 16% to £42.1m for the six months to 30 September.
Adjusted pre-tax profit grew by 23% to £10.6m.
Earlier this year Iomart said it was working more closely "in the orbit" of the industry's larger businesses such as Amazon and Microsoft.
Its strategy has been shifting towards packages of support for businesses as they shift to cloud-based operations.
Its latest half-yearly results showed organic growth in cloud services of 10%.
The company continues to own and manage eight data centres in the UK, including one in Glasgow.
Chief executive Angus MacSween said: "Trading in the first half of the year has been very good and we remain focused on building our recurring revenues in line with our business model.
"We are uncovering an increasing breadth of opportunities to constantly grow that recurring revenue and remain confident in our future prospects."