EnQuest reports 'first oil' from Scolty-Crathes development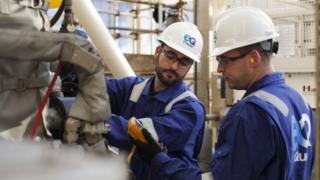 EnQuest has announced it has started producing oil from its Scolty-Crathes development in the North Sea.
The company said the project was ahead of schedule and under budget, having had its field development plan approved a year ago.
Scolty and Crathes are light oil fields located about 160km (100 miles) north east of Aberdeen.
They are estimated to contain up to 15 million barrels of gross oil technical reserves.
Aberdeen-based EnQuest has a 50% stake in the development, with MOL Growest (II) Ltd holding the rest.
The company also confirmed that its Kraken development project remained on course to deliver first oil in the first half of next year.
Kraken, which is located about 125km (77 miles) east of the Shetland Islands, is one of the biggest new projects in UK waters.
In a separate development, EnQuest reported that the Thistle and Dons fields will be fully shut down for several weeks while third-party maintenance work is carried out on the Brent Pipeline System.
The work is expected to start this week and last for about three weeks. EnQuest added that would mean "a longer shutdown and later start date than previously anticipated".
The announcements came as EnQuest confirmed that it had finished a major financial restructuring move to help it complete the Kraken and Scolty-Crathes developments.
It raised £82m via an equity placing and overhauled its debt facilities in order to strengthen its balance sheet.
The restructuring was undertaken after EnQuest faced difficulties as a result of the decline of oil prices.
In a statement, EnQuest said: "The completion of the restructuring provides the group with a stable and sustainable capital structure, reduced cash debt service obligations and greater liquidity.
"These will all contribute to ensuring that the group is in a strong position to pursue its strategy of targeting mature and marginal oil assets and its focus on cost efficiency during a prolonged period of low oil prices.
"In particular, the restructuring will enable the group to complete the Kraken and Scolty/Crathes developments, which the company expects will lead to both significant increases in production and significant decreases in average unit operating costs across the group."