Rural-urban property price gap narrows, says new report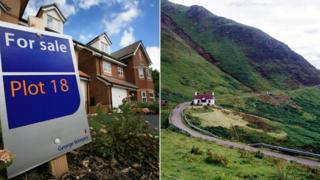 The price gap between properties in rural and urban areas is narrowing, according to a new review.
The Bank of Scotland report found that homes in the Scottish countryside are on average £17,231 more expensive than those in towns and cities.
However it also revealed that the price gap has dropped from £24,228 in the last five years.
It found that while prices are higher in rural areas, urban house prices are increasing at a faster rate.
The price of homes in the countryside rose by 14% between 2011 and 2016, while the cost of urban properties jumped 22%.
Other findings of the bank's annual rural housing review include:
The most affordable areas for rural homes are East Ayrshire and Dumfries and Galloway;
East Lothian and Perth and Kinross were the least affordable regions;
First-time buyers account for 45% of all mortgage-financed purchases in Scottish rural areas;
Getting on the property ladder is most challenging in East Lothian - there, just 37% of purchasers are first time buyers.
Graham Blair, mortgage director at Bank of Scotland, said: "Our How Scotland Lives research has shown that countryside living can have a positive impact on peoples' happiness, so it's to be expected that people will be attracted to living in the countryside and this does come with a premium.
"Affordability is often a key driver in any decision to purchase a home, with some rural regions more affordable than certain urban locations there are options for anyone considering an escape to the country."
Affordability of homes in rural districts
Local Authority District
House prices 2016 (£)
Average earnings 2016
Price to earnings ratio
East Ayrshire
127,646
29,979
4.3
Dumfries and Galloway
133,462
28,960
4.6
Western Isles
129,547
27,557
4.7
Moray
161,887
30,543
5.3
Argyll and Bute
163,263
30,397
5.4
Shetland
181,822
33,311
5.5
Scottish Borders
167,215
30,594
5.5
Highland
171,956
31,380
5.5
Aberdeenshire
222,668
39,900
5.6
Perth and Kinross
186,512
32,614
5.7
East Lothian
200,991
32,611
6.2
Rural Scotland
181,233
32,763
5.5
Urban Scotland
164,002
33,299
4.9