Johnston Press confirms title sale talks with Iliffe Media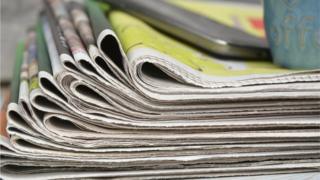 Newspaper publisher Johnston Press has confirmed it is in late-stage talks to sell "certain titles" to Iliffe Media.
It follows reports that Johnston was talking to Iliffe about the possible sale of its East Anglian brands.
They include the Newmarket Journal and Suffolk Free Press.
Last month, Johnston announced a deal with creditors to change the conditions on some of its borrowing, giving it more time to raise finance by selling assets.
The Edinburgh-based publisher currently owns about 200 titles across the UK, including The Yorkshire Post and The Scotsman.
'Potential sale'
In a statement, Johnston said: "The board of Johnston Press notes the recent media speculation and confirms it is in late stage discussions with Iliffe Media surrounding the potential disposal of certain titles.
"The company has previously announced that as part of its portfolio review, a number of brands had been identified that were not part of its long-term future and a process has been initiated to explore the potential sale of these assets to identified parties.
"This disposal process is ongoing and a further announcement will be made when appropriate."
Last week, Johnston reported that sales had been boosted by the growth of the i title, which it acquired in April.
Sales of the compact were up 4% in September to an average 290,000 per day.
However, overall group revenue fell by 3% between July and October when compared with the same period last year.
The figures came on top of a 9% fall in revenue for the first half of 2016.