Virgin loan boost for Scots entrepreneurs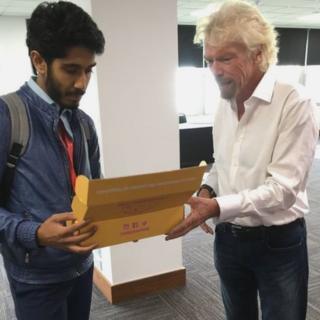 Two entrepreneurs have become the first in Scotland to win backing from Sir Richard Branson's not-for-profit company Virgin StartUp (VSU).
Fife-based Mohsin Muhammed secured a £25,000 loan to open a sweet subscription service.
And Aberdeen-based Gillian Poskit received £25,000 for her eco-friendly bin cleaning business for residential and commercial customers.
VSU provides government-backed start-up loans to new businesses.
It also offers mentors and advisers to help start-ups grow.
This is VSU's first foray into Scotland, having operated in England for nearly three years.
VSU said it aimed to improve the survival rate for start-ups in Scotland, where only 42% of new businesses make it through their first five years.
Sir Richard Branson said: "I'm delighted the first Virgin StartUp Scottish businesses have now received funding.
"Scotland has always been a place close to my heart - my wife Joan is a proud Glaswegian and my parents are from Edinburgh.
"I know Scotland is a place where new businesses can thrive, which is why I hope more follow suit and the funding, mentoring and business advice on offer through Virgin StartUp for Scottish entrepreneurs will act as a springboard for new businesses for many years to come."
Scotland's Economy Secretary Keith Brown said: "The Scottish government recognises the key role of entrepreneurial activity in delivering sustainable economic growth and we are committed to raising aspiration towards enterprise and facilitating the growth of entrepreneurial businesses.
"Virgin StartUp is a great example of this."