Brewer Innis & Gunn launches cloud beer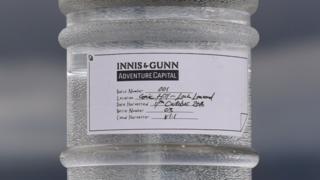 A beer has been created using water harvested directly from clouds over Dumfries and Galloway.
Edinburgh brewer Innis and Gunn flew an airborne device fitted with turbine and condenser over the Devil's Beef Tub hollow in hills near Moffat.
It collected sufficient cloud water to brew 500 pints of the new ale.
It comes as the company launched a new crowdfunding page to raise £1m for expansion plans to double its turnover from £12.5m to £25m a year.
The company said it was selling 2% of its share capital to also fund four new "beer kitchens" and extend production at Inveralmond Brewery in Perth.
'Passionate beer lovers'
Innis & Gunn took over Inveralmond Brewery in April after raising £3.1m through a separate crowdfunding scheme.
The company said the new beer, said to be made from a number of "uniquely-sourced ingredients", is a part of a new drive for innovation and high-quality beer flavours.
The result is described as a "modern IPA influenced by its Atlantic origins", which was high in minerals and added real flavour through the brewing process, alongside the malts and hops selected.
The brewer, known for innovations such as the world's first beer marmalade, is launching the crowdfunding drive under the banner AdventureCapital, which will see investors given the opportunity to contribute a minimum of £10.
Dougal Gunn Sharp, founder and master brewer said: "With AdventureCapital™, we are building a community of like-minded, passionate beer lovers who care deeply about quality, innovation, flavour and integrity.
"We can't wait to begin the next chapter of our journey with them."
In 2015, Innis & Gunn said it sold more than 23 million bottles of beer across the world making it one of the biggest craft beer brands in the UK.