Survey shows Scottish fishing fleet nationalities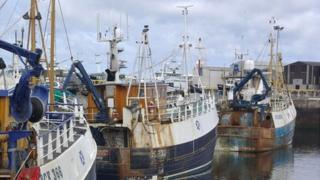 Nearly three in every 10 people working in the Scottish fishing fleet is from outside Scotland, according to new figures.
The second Scottish government survey of employment on the fishing fleet found only 72% of the workforce was Scottish.
The largest in-flow of workers was from the Philippines, Ghana, Romania and Latvia.
The survey also found that the average gross pay was more than £31,000.
But for the biggest boats in the fleet, that rose to an average of nearly £117,000.
Small-scale lobster and crab fishing made workers less than £6,000 per year. On creels and pots, it was often part-time work, with an average of four hours per day.
The nationality of workers in the fishing fleet raises questions over whether there are enough people with the skills in Scotland to replace foreign workers after Britain withdraws from the European Union.
Visa shortage
An SNP MP recently raised concerns that Hebridean boats were unable to put to sea because of a shortage of work visas for the necessary crewing.
The Filipino and Ghanaian crewmen need non-EU work permits, and many are recruited through agencies.
A significant number are required for their skills as ship engineers.
In the survey of 753 skippers and crew, 67% said they were Scottish and one in 40 said his nationality was "Shetland".
More than 8% said they were from the European Economic Area. Of them, nearly half were from Romania and 3% from Latvia.
From outside Europe, 15% were from the Philippines and 3% from Ghana.
---
What fishermen are paid
The average monthly amount spent by vessels for individual crew.
Skipper £3,381
Engineer (crew share) £4,701
Engineer (contract) £1,574
Deckhand (crew share) £2,787
Deckhand (contract) £1,291
Source: Scottish government survey 2015
---
The initial survey, in 2013, showed every skipper surveyed was Scottish. But the 2015 survey found skippers from England, Latvia and Romania.
Among ships' engineers, 59% were Scottish in addition to 6% describing their nationality as "Shetland". Some 22% were Filipino.
Among deck hands, 55% were Scottish. Filipinos accounted for 25%, Romanians for 6% and Ghanaians for 5%.
The largest numbers of foreign workers were in the white fish fleet and prawn trawlers, and more were found in the North Sea fleet than the west coast.
Demand for non-EU workers was highest on the category of smaller white fish trawler, under 24m in length. On these, 38% of workers were from outside the European Economic Area.
It is suggested that larger white fish boats have lower numbers of foreign workers, because they have been financially stronger, meaning it has been easier to retain Scottish crews.
The average age of fishermen was just under 40, with an average time working on their vessel of five years and seven months.
While workers from outside Scotland were more likely to be paid a wage or through an agency, three-quarters of those surveyed were part-paid by a share of the catch value.
The survey was carried out through quayside interviews during last year. It covered 222 vessels, or 15% of the registered Scottish fishing fleet.