Bondholders move to liquidate North Sea firm Xcite Energy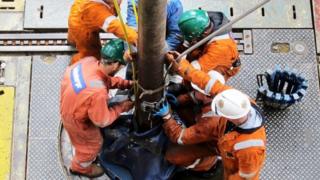 Oil firm Xcite Energy is facing liquidation after bondholders rejected a restructuring plan for the company.
Trading of Xcite's shares was suspended on Tuesday after principal debt holders quit talks over a proposed debt-to-equity swap.
The plan involved exchanging 100% of Xcite's outstanding bonds for 98.5% of the enlarged share capital of the firm.
Bondholders told the firm they were not satisfied the plan could be implemented "in a manner acceptable to them".
Xcite owns and operates 100% of one of the North Sea's biggest undeveloped fields.
The Bentley field, which is located about 100 miles east of Shetland, has estimated recoverable reserves of nearly 270 million barrels.
However, the sharp drop in oil price put huge pressure on Xcite's balance sheet, as it amassed a debt pile of about £100m.
It launched negotiations over a possible bond restructuring in an effort to take forward its Bentley development plans.
'Going concern'
In a statement on Tuesday, Xcite said bondholders expected to petition the court in the British Virgin Islands within the next 10 days, requesting the appointment of a liquidator. The move is expected to take several weeks.
Xcite added: "On the basis of advice received by the company and the directors, the directors believe that liquidation is unlikely to result in the return of any value to the company's existing shareholders.
"As a consequence, the directors have requested the immediate suspension of the trading on AIM of the ordinary shares in the company.
"The principal bondholders and the proposed liquidator have confirmed that Xcite Energy Resources Plc (XER) and its assets are not expected to be the subject of enforcement action and XER is expected to remain a going concern throughout this process."
Xcite's headquarters are in Surrey, but its operations base is in Aberdeen.