Orders down for manufacturing firms, CBI survey finds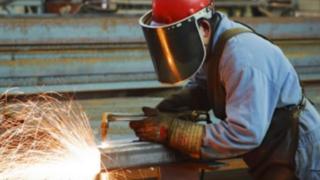 Scottish firms saw manufacturing orders slip in the third quarter of the year as companies contended with political and economic uncertainty, a survey has indicated.
The latest CBI Scottish Industrial Trends Survey showed domestic and export orders fell in the three months to October.
It followed a recovery in trading in July.
Employment fell again, after a brief rise in the last quarter.
Another decline is predicted over the next three months.
However, firms said they expected new orders and export orders to increase in the next quarter as the pound continues to trade at near-historic lows, despite a rise in costs.
The survey of 37 Scottish manufacturing firms was carried out between 26 September and 13 October, when the pound averaged 1.13 Euros and $1.27.
A total of 30% of firms said the volume of output over the past three months was up and 22% said it was down, giving a balance of +8%. However, this was down from +35% in July.
Meanwhile, 13% of manufacturers said employment numbers were up, and 26% said they were down, giving a rounded balance of -13% - the lowest figure since January 2012.
'Significant challenges'
CBI Scotland director Hugh Aitken said: "It had been hoped that Scottish manufacturers would see a continuation of the recovery seen in the second quarter of this year, but our latest survey shows order volumes and employment slipping over the last three months.
"Amid sluggish GDP growth relative to the rest of the UK, this is a reminder of the very significant challenges facing businesses in Scotland as they contend with economic and political uncertainty.
"It underlines again the need for the Scottish and UK governments to work together to provide clarity for companies and secure the best deal possible in the EU negotiations."
He added: "It's also more important than ever for the Scottish government to make decisions in the upcoming budget that make businesses as competitive as possible."