Stefan King's G1 Group's profits hit by 'headwinds'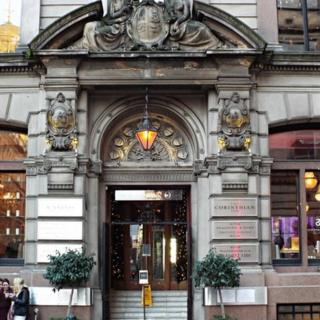 Glasgow-based hospitality group G1 has posted a sharp fall in profits, following a year of economic "headwinds".
G1, which is run by entrepreneur Stefan King, reported that pre-tax profits fell by nearly £3.5m to £6.1m in the year to the end of March.
Group turnover was up slightly at £70.5m.
G1 runs more than 50 venues in Glasgow, Edinburgh, St Andrews and Aberdeen, as well as other locations in Scotland.
Its businesses include the Corinthian Club in Glasgow, Forgan's restaurant in St Andrews and the Ghillie Dhu bar and restaurant in Edinburgh.
In accounts filed recently with Companies House, chairman Brian McGhee said: "It has been a year of headwinds - some a function of the broader economy, some internal.
"The prevailing winds in the economy have been uncertainty for the customer base and the substance of their disposable incomes following a Scottish referendum and then an EU referendum.
"Locally of course, we have had to adjust to a quantum change in the oil economy, where the effects have been severe in Aberdeen, but also rippling out across the country."
Mr McGhee added: "G1 Group, as a prominent feature in the Scottish hospitality and leisure sector, has not been immune to these challenges, and has had to weather the storm."
The company said it was currently "bedding in" the recently acquired Golf Tavern in Edinburgh and Illicit Still in Aberdeen, adding that it was "closely engaged in other potential acquisitions which fit with the strategic footprint".
The highest-paid director at G1 Group received just under £125,000 - down from £148,400 in the previous financial year.
The average number of employees was 1,360 last year, compared with 1,195 the year before.