Congestion hits costs at McGill's bus company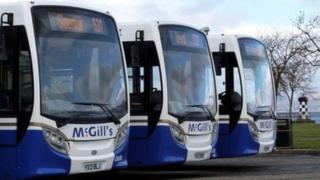 Growing congestion has hit costs for McGill's bus company, which operates scheduled services in and around Glasgow.
In its annual accounts, covering 2015, it said that cheaper petrol and diesel costs were encouraging more drivers to use cars.
The firm said this was slowing journey times and forcing the company to put on more buses.
That offset the advantage it might have had from cheaper fuel, McGill's said.
Its accounts also highlighted the cost to the business of disruptive weather.
Diverted routes
McGill's, which is based in Inverclyde, reported a rise in turnover from £35.3m to £38.3m, while pre-tax profits rose from £3.2m to £3.6m.
The accounts stated: "Record low fuel prices at the forecourts saw an increase in car usage and congestion which, allied to the need to increase the number of vehicles to maintain timetables in congested towns, the lower fuel price benefit to the business was not realised.
"The new Queen Elizabeth University Hospital was opened in May 2015. This caused a significant increase in the cost of operations, to divert the many routes that previously by-passed the old hospital, into the new hospital. These factors combined to cause an underlying drag on performance."
The McGill's workforce increased between 2014 and 2015 from an average of 681 to 787.
The company is controlled by the Easdale family. It runs buses in Glasgow, Renfrewshire, East Renfrewshire, Inverclyde and North and South Lanarkshire.