Scotland lags UK as house prices rise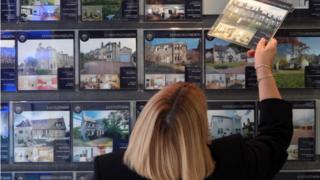 The average house price in Scotland has risen over the past year but at almost half the rate of the UK as a whole, according to new figures.
Data released by Registers of Scotland (RoS) found prices north of the border rose by 4.3% over the 12 months to August to £144,561.
The UK average climbed by 8.4% over the same period to £218,964.
Both Scotland and the UK showed a 1.3% increase on the previous month, according to the UK House Price Index.
The biggest price increase over the last year was in East Renfrewshire, where the average price rose by 12.7% to £219,511.
The biggest decrease was in the City of Aberdeen, where prices fell by 8.7% to £175,922.
RoS director of commercial services Kenny Crawford said: "In the five months since the House Price Index was first published in June 2016, the City of Aberdeen has shown each month the biggest annual percentage decrease in average price of all of Scotland's local authority areas.
"Overall, average prices in the area have fallen consistently over the last 15 months when comparing monthly average price figures with the figures for the same month in the previous year."
The top five local authorities in terms of sales volumes were the City of Edinburgh, Glasgow City, South Lanarkshire, Fife and North Lanarkshire.
Overall volumes fell in June by 7.4% year-on-year but were up by 20.9% on the previous month.
Mr Crawford added: "We still may be seeing some impact from changes in Land and Buildings Transaction Tax that came into effect on 1 April 2016 for additional dwellings, such as second homes and buy-to-let properties.
"These changes are likely to have contributed to the significant increase in volumes seen in March and to the subsequent lower volumes that have followed in April, May and June."