Funding boost for loyalty app firm Swipii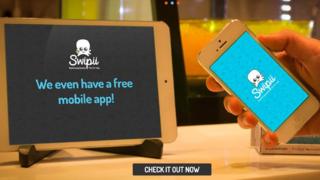 A Scottish tech start-up which created a digital platform to help small firms attract repeat business has raised £2m from new investors.
Glasgow-based Swipii's automated marketing suite allows businesses such as beauty salons and coffee shops to collect customer details in order to offer them rewards and stay in contact.
Its platform, which includes an app, is already used by 410,000 customers.
It hopes to increase that to as many as two million within the next 12 months.
According to Swipii's own research, customer visits increase by as much as 44% when a business uses a loyalty programme.
New investors in the company include Kima Ventures, LocalGlobe and Global Founders Capital.
Chief executive and co-founder Chitresh Sharma said: "Swipii works with a large number of businesses, including barber shops, beauty salons and coffee shops.
"Often they suffer from poor levels of customer data collection due to a lack of time and resources, which leads to the second problem of no follow-up communication to help increase repeat visits and drive customer loyalty.
"We want to give the power of systems such as Tesco's Clubcard to small and medium sized retail businesses at a price that delivers a better ROI (return on investment) and significantly increases revenue for their business."
Recently, Swipii announced a contract with catering services provider Cordia to encourage and reward school pupils to eat healthier options at lunchtime.
Swipii said all 30 secondary schools in Glasgow had installed its platform on their premises following a three-month pilot scheme.
The company, which employs more than 40 staff, added that it was in discussions with another 200 additional schools.