Weak pound helps 'boost' Scottish tourist industry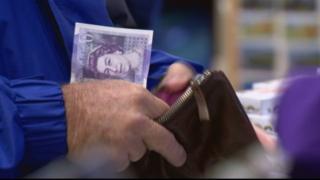 Scotland's tourist industry has been boosted through the summer season, with the help of the weaker pound, according to a business survey.
The findings come in the quarterly monitor carried out this month for Royal Bank of Scotland.
It showed business confidence had risen, suggesting a modest growth in output from the economy in the second half of this year.
This runs counter to talk of business gloom over Brexit.
The findings also add to some confusion about business thinking on Britain's split from the European Union.
The survey of opinion from 450 businesses showed slightly more firms reporting a boost to output volumes than those seeing decline, by 33% to 30%.
Expectations of the next six months are also positive, with 33% of firms foreseeing a rise in volumes and 26% expecting a decline.
Almost as many, on both sides, expected to see change in new business volumes.
There was improvement for more than half of tourism firms over summer, and nearly as many expected that to continue, though they also reported a rise in their costs. That may have been due to the introduction of the so-called National Living Wage, at a higher rate than the previous minimum.
That has been helped by the decline in the value of sterling against major currencies, making visits to Britain appear at least 10% cheaper to those whose income is in euros or US dollars.
This week, the sterling exchange rate with the euro fell to its lowest point in a year, at below 1.15 euros. Last November, it reached nearly 1.43 euros.
The Highlands and Islands had the most positive outlook, ahead of the central belt, and contrasting with the north-east, which remains affected by the oil industry downturn.
Malcolm Buchanan, chairman of the Royal Bank's Scottish board, said: "Despite a summer of political uncertainty, Scottish businesses are demonstrating resilience and there are signs of emerging optimism, which is encouraging for the future prospects for our economy."
Graeme Roy, director of the Fraser of Allander Institute, which carried out the survey, said business growth gives grounds for "cautious optimism", though he added "the ongoing weakness in exporting and the apparent rise in business costs is a cause for concern".