Scotch whisky granted legal protection in Taiwan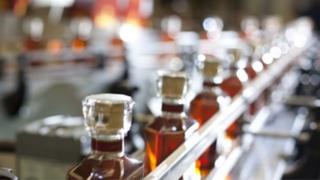 Industry representatives are celebrating after Scotch whisky was granted trade mark protection in Taiwan.
The Asian country is Scotch's fourth largest market, accounting for £75m worth of exports in the first six months of the year.
The move will make it easier for legal action to be taken against producers of fake Scotch.
The Scotch Whisky Association described it as a "major legal breakthrough".
The trade mark recognises that Scotch must be made in Scotland from water, cereals and yeast and matured for at least three years.
The industry body, which applied for the protection, said its bid had been helped by the UK Customs' Spirit Drinks Verification Scheme.
It added that the scheme gave the authorities in Taiwan "even greater confidence in the robust procedures around Scotch".
SWA senior legal counsel Lindesay Low said: "Taiwan has for many years been a major market for Scotch whisky, in particular single malts.
"The trade marks for Scotch whisky mean that consumers can have even greater confidence in the quality of what they are buying.
"It will also give a further boost to Scotch whisky producers exporting to Taiwan."
'Building brands'
Meanwhile, family-run distiller William Grant & Sons has reported that sales increased last year by 6.1% to more than £882m.
The Speyside-based company said its results had been boosted by good performances from its "super-premium" brands, including Glenfiddich, Hendrick's gin and Monkey Shoulder whisky.
Chief executive Simon Hunt said: "This success was driven by our constant focus on building brands and investing in them for the long term.
"We have also continued to invest in our operational capabilities and our route to market infrastructure.
"It has been a challenging marketplace but we are well positioned to continue our growth in 2016 and beyond."