Scottish video games industry 'surging'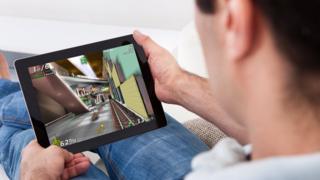 The Scottish video games industry had a dramatic surge in growth last year and is now the third largest cluster in the UK, industry figures have suggested.
Trade association Tiga said the industry's "development headcount" grew by 25% in Scotland between December 2014 and March 2016.
This was more than twice the national average and the second fastest growth in the UK after Wales.
Scotland's 85 games companies now employ 1,290 creative staff.
And the game development sector supports an additional 2,408 indirect jobs, according to Tiga's research.
It also found that Scotland is home to 9.4% of the UK's total games companies and 9.8% of its developer headcount.
Console markets
Scottish games development companies, who work across the mobile, online, educational and console markets, are estimated to invest nearly £62m in salaries and overheads every year and contribute £56m in direct and indirect tax revenues to the Treasury.
They also make a direct and indirect contribution of nearly £138m to the UK's Gross Domestic Product (GDP).
Tiga chief executive Dr Richard Wilson said the Scottish video games industry now trailed only London and the south east of England in terms of size.
But he said that more games companies need to benefit from Games Tax Relief and Research and Development Tax Credits if the industry was to continue to grow.
Tiga has also proposed a Games Investment Fund, which would make grants or loans available to games businesses on a matched funding basis.
The Games Investment Fund would also provide a commercial mentoring business advisory service, staffed by industry veterans, for games companies that access its grants or loans.