Johnstons of Elgin reports rise in sales and profits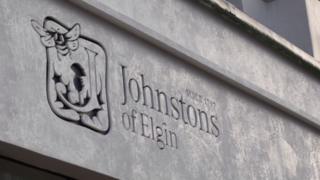 The company behind Scottish cashmere brand Johnstons of Elgin has reported a sharp rise in sales and profits.
James Johnston & Co of Elgin said turnover rose from £58.6m in 2014 to £66.6m last year.
Operating profit rose from £2.27m to £8m, supported by an exceptional gain of £4.1m on the sale of a property in London.
The firm said sales growth was generated by increased sales to luxury brands in the UK and France.
It also benefited from growth in sales of its own branded products through its UK retail outlets, while wholesale gains were driven by Japan and the Middle East.
The company has manufacturing plants in Elgin and Hawick. It runs several shops in the UK, including a flagship store in New Bond Street, London, which opened in December last year.
In 2015, it employed an average of 943 employees - up from 829 in 2014.