Profits up at Lord Haughey's refrigeration company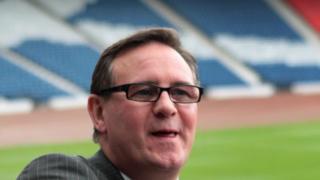 The refrigeration company run by Lord Haughey has reported a rise in profit, helped by the sale of a household gas servicing division.
City Refrigeration Holdings, which is based in Glasgow, saw revenue rise from £455m in 2014 to £463m in the last calendar year.
Pre-tax profits rose from £7.5m to £13.5m in 2015.
Accounts filed with Companies House show that there was a gain on the sale of City Technical Assets (UK) of £5.7m.
That was the only part of the group that sold services directly to domestic customers. The company took a decision to focus on its commercial clients only.
American base
City Refrigeration's main work is in installing and servicing commercial refrigeration.
Willie Haughey started out out in the pub trade. That has extended to air conditioning, much of it in the retail sector, and providing other similar facilities to clients.
With more than 12,000 employs, it operates in the UK, where it generates three-quarters of its turnover. Among major clients for refrigeration, air-conditioning and cleaning services is the Asda chain of stores.
It has been growing business in Australia, and last year it opened up in Malaysia, providing refrigeration and air-conditioning to Dairy Farm, a chain of supermarkets.
Earlier this year, the company announced plans to open an American base in Florida, having won a major, five-year contract for facilities in the Southeastern Groceries chain of 700 stores.
Meanwhile, Lord Haughey, a prominent Labour supporter, this month wound up his company Faith in the Union. It was renamed from another company in 2014, and used as a campaigning vehicle in the Scottish independence referendum campaign that year.