Tennent Caledonian launches gluten free lager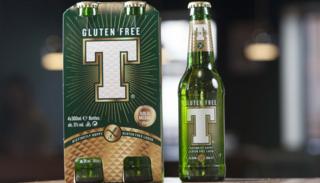 The maker of Scotland's biggest selling lager has introduced a gluten-free option in the UK.
Tennent Caledonian has launched Gluten Free T in pubs, clubs, bars, restaurants and Tesco supermarkets across Scotland.
It follows a trial in Italy two years ago which was hailed a "great success".
The brewer said the lager was aimed at the 13% of people in Britain who are intolerant to gluten or choose to avoid it for health reasons.
Its master brewer Keith Lugton said: "We've had excellent feedback from customers who have chosen to stock our Gluten Free T lager so far, and look forward to seeing how the brand grows in the coming months.
"Providing a diverse range of options has never been more important when catering for modern consumers.
"More consumers than ever before are avoiding ingredients such as gluten and it's crucial that our customers are able to respond to changing tastes.
"Gluten Free T is also a great tasting lager and we're confident it'll appeal to those who just love a delicious beer.
"The UK market for gluten free is the second biggest in Europe so were pleased to offer our drinkers increased choice and our customers the chance to take advantage of this sales opportunity."
The move comes after the brewer announced it would be displaying the calorie content of Tennent's lager on its cans and bottles.
It said it would "promote responsible drinking".