Edrington Group chooses Glasgow city centre HQ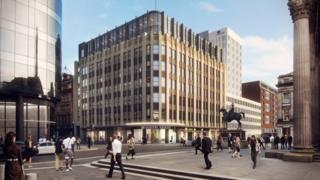 Edrington Group, one of the big Scotland-based whisky distillers, has chosen its Glasgow city centre headquarters.
The firm is moving its administrative base out of an industrial site in the west of the city.
It has agreed a deal to lease the top four storeys of a building on Queen Street.
The building is currently being refurbished and expanded with two extra storeys.
The 100 Queen Street block is opposite the Gallery of Modern Art.
Edrington announced its intention to move into a city headquarters in a statement earlier this year. It plans to have 130 people working there, moving them from offices in Glasgow and Perth.
The distiller of Famous Grouse and Cutty Sark whisky blends, plus The Macallan and Highland Park single malts, employs 2,600 people, 60% of them overseas.