Schuh reports strong growth in profit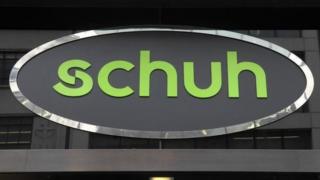 One of Scotland's leading retailers, Schuh, has reported a strong growth in profit, as it pulled back on a very large staff bonus scheme.
The shoe chain paid out £25m to its 4,200 staff last year, as part of a reward scheme from the Tennessee-based company Genesco that took it over five years ago.
When the Livingston-based company was sold, the staff pay-out was over £37m.
The most recent accounts show pre-tax profits up 28% to £15m.
That is on turnover of £267m, up 8%.
The end of the year was tougher, partly through the distorting effect on the retail sector of Black Friday sales, at the end of November.
'Tougher position'
David Gillan-Reid, the new finance director, said: "The year started well. However, a mild winter throughout combined with a slower Black Friday, leading up to a challenging Christmas trading period.
"That meant we found ourselves in a much tougher position in the final quarter".
The company opened 17 new stores in the year, including its first in Germany, bringing the total number of outlets to 125. Its only other non-UK store was in Ireland.
With an emphasis on customer service, Schuh has invested in mobile payments, and a new store design has removed the conventional cash desk.
Founded in 1981, it specialises in leisure and sport shoes, with its own range and stocking about 80 other brands.