Confidence in Scottish housing market after Brexit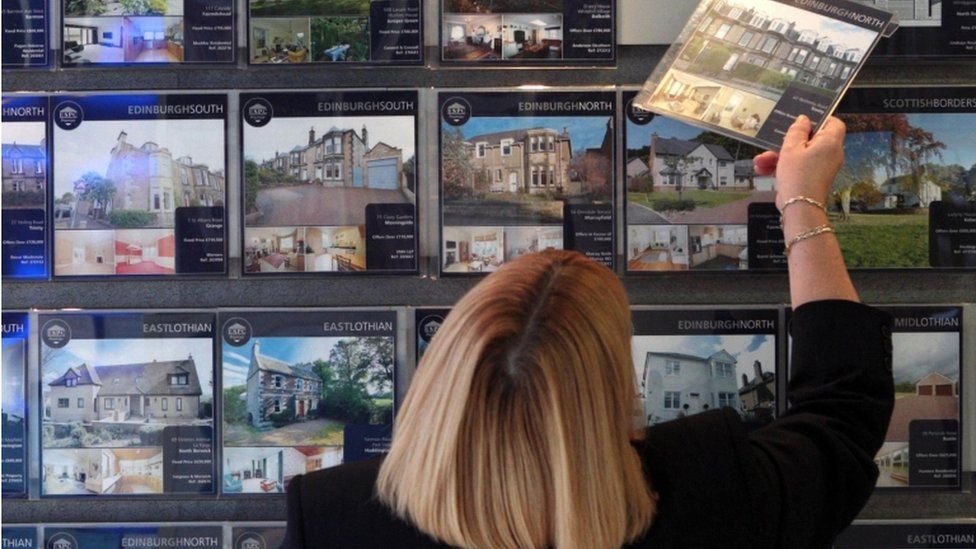 Confidence has returned to the Scottish housing market following the Brexit vote, according to a survey.
The Royal Institution of Chartered Surveyors (RICS) found that 17% more surveyors in Scotland reported an increase in house prices.
That was up from +8% in July, when there was a drop in activity and price expectations across the UK.
The Edinburgh Solicitors Property Centre (ESPC) also reported a year-on-year rise in house prices.
It said the average selling price of homes in east central Scotland has increased 6.2% over the last three months.
However it reported a drop in the number of homes being sold, with a 8.1% decrease in sales volumes in the last three months.
ESCP's business analyst Maria Both-Lopez said a survey of their members found the Brexit vote had a limited impact.
"The main reason buyers are not choosing to move home is that there is a shortage of housing stock," she said.
First Minister Nicola Sturgeon has also taken some "very welcome steps", according to Gail Hunter, director of RICS in Scotland.
"Across the UK we are seeing confidence return following the EU Referendum," she said.
"In Scotland, prices looks set to remain firm in part caused by the lack of stock across the country.
"Uncertainty remains over the market post-Brexit, and expected sales have declined yet again, but this week we have seen the first minister take some very welcome steps, which will help to return some much needed stability to our property and construction sectors."
The RICS survey found that 10% more chartered surveyors expect to see a fall in sales over the next three months.
It also indicated that there was a decline in new instructions in August.
Chief economist Simon Rubinsohn, said there were clear signs the housing market across the UK was settling down following the EU referendum.
"It is likely the swift response from the Bank of England, both in terms of the lowering of the capital buffer and the cut in interest rates, has played a role in helping to support confidence," he said.
"The more assured mood is also reflected in some of the longer term RICS indicators although this in itself could serve to re-ignite ongoing concerns surrounding affordability with five year projections for both prices and rents in the latest survey back to their highest level since May."
Related Internet Links
The BBC is not responsible for the content of external sites.