Scots businesses turn to challenger banks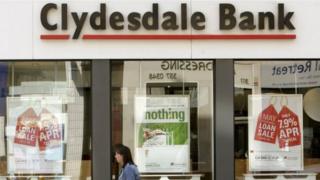 Scottish businesses are turning to smaller, so-called challenger banks in much greater numbers than others across the UK, new figures suggest.
That is according to analysis of lending data from Avention, a data analysis firm.
From mortgages and charges, it found nearly a third of loans are issued by banks other than Britain's 'big five'.
London businesses are most likely to go to Royal Bank of Scotland, Lloyds, HSBC, Barclays and Santander.
Only 25.4% of capital business's debt was held with challenger banks.
Business in the north of Scotland was least likely to do so, and that might reflect the traditional strength of Clydesdale Bank. Challenger banks, such as the Glasgow-based Clydesdale, accounted for 46.5% of business lending.
The pattern extended to businesses in the north of England and Scotland as a whole being less likely to use the big five for loans than is the case in the south.
The sectors more likely to look beyond the main lenders included utilities and energy, while the finance sector remains true to the dominant lenders.
Clydesdale is vying to be the largest challenger banks, while the category also includes Edinburgh-based Virgin Money, Aldermore, Shawbrook and Metro Bank.