Funding boost for Alexander Dennis bus jobs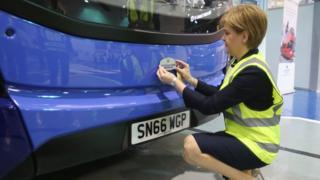 More than 100 jobs are to be created at Falkirk-based bus manufacturer Alexander Dennis Limited (ADL).
The firm will receive £7.3m from Scottish Enterprise as part of a research and development grant - the country's largest ever grant of this type.
The money will go to its low-carbon vehicles programme, which is part of the plans to double turnover by 2020.
The firm said the funds would create new jobs and secure 126 existing jobs.
First Minister Nicola Sturgeon said: "Alexander Dennis (ADL) is one of the world's leading bus and coach builders, and a true Scottish success story.
"This new grant funding, the highest-ever research and development (R&D) award by Scottish Enterprise, will create 101 new jobs and secure a further 126 jobs in ADL's low carbon vehicles project.
"The project is integral to ADL's growth and export strategy to capture more of the increasing global demand for environmentally-friendly buses."
'Seizing the opportunity'
She added: "ADL's continued commitment to invest in Scotland is testament to the skilled workforce here in Falkirk.
"We'll continue to work with manufacturers like ADL to innovate and expand, and we'll set out further measures to grow the Scottish economy later this week."
Colin Robertson, chief executive of Alexander Dennis, said: "We are delighted that Scottish Enterprise supports us in our aim of developing low and zero emission buses for the global market.
"We look forward to local authorities and cities around the UK, as well as abroad, seizing the opportunity to introduce these next-generation vehicles which bring massive benefits to passengers, city dwellers and the environment.
"This investment in new product development enables companies like our own to stay at the forefront of industry at home and overseas, and will help us achieve our strategic goal of a £1bn turnover by 2020."
Councillor Dennis Goldie, Falkirk Council's spokesman for economic development said: "Alexander Dennis Ltd is a great example of how a traditional firm can transform itself using new technology to become a world-class operation meeting the increasing requirements for energy efficient and environmentally-friendly buses.
"It is a significant employer in the Falkirk area and with the awarding of this grant, we are optimistic that its future is stronger than ever before."