'Wide variations' in Scottish youth unemployment rates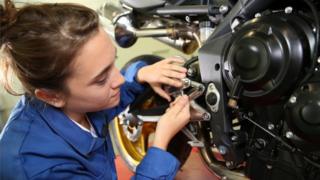 Scottish youth unemployment decreased for the fourth consecutive year in 2015 but the rate varied widely between different areas, according to a report.
A study of official data by the business consultancy EY found unemployment among those aged 16 to 24 fell to 14.3% last year.
That compared with a UK average of 14.4%.
However, the Scottish figures showed wide variations - from less than 8% in the Highlands to 19.4% in Dundee.
The contrast was even wider in England and Wales, with youth unemployment rates diverging by up to 19.1%.
Coventry demonstrated the lowest youth unemployment rate of 8.2%, compared with 27.3% recorded by both Middlesbrough and Swansea.
The second highest rate in Scotland was found in Falkirk, which had the lowest youth unemployment 10 years ago. Its rate last year was 18.7%.
Glasgow had the third highest rate of unemployment, at 16.6%.
'Uncertain times ahead'
Mark Gregory, EY's chief economist, said: "Youth unemployment rates have fallen from the peaks we saw during the recession, when 40% of the UK's 16-17 year olds were facing unemployment.
"However, a stubbornly high number of young people remain excluded from the labour market, which could be further exacerbated by a period of weaker economic growth in these uncertain times ahead."
He added: "The skills agenda is fast becoming one of the biggest priorities for UK business, with Brexit also likely to impose some restrictions to the free movement of labour in the future.
"It has never been more important to ensure the UK has the right mix of skills and talent, both nationally and locally, and young people are core to this."