Michael Russell appointed Scottish Brexit minister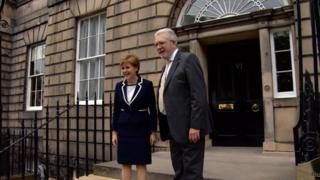 Michael Russell has been appointed as the Scottish government's new minister with responsibility for Brexit negotiations with the UK government.
It said Mr Russell would lead the Scottish government's negotiations with Westminster over "our future relationship with the EU".
Mr Russell has been given the title of Minister for UK Negotiations on Scotland's Place in Europe.
He has previously held the environment, culture and education briefs.
But he has been out of the Scottish cabinet since Nicola Sturgeon replaced Alex Salmond as first minister in November 2014.
'Experienced minister'
Ms Sturgeon said the appointment, which is subject to approval by Holyrood when it returns next month, was an indication of the importance she was placing on the negotiations.
She added: "We already have an agreement with the new prime minister that the Scottish government should be fully involved in the development of the UK government's position ahead of Article 50 being triggered and beyond, and that options to protect Scotland's relationship with Europe will form part of these discussions.
"By putting a dedicated and experienced minister at their centre, it will ensure that Scotland's voice is heard loudly and clearly. I am confident that Michael Russell will make strong and constructive representation to the UK government throughout this process."
The first minister said External Affairs Secretary Fiona Hyslop and Europe Minister Alasdair Allan would continue to lead discussions with EU institutions and member states.
She added: "Derek Mackay will continue to have overall responsibility for the constitution, including overseeing preparations for a new independence referendum bill should that prove to be the best or only way to protect Scotland's interests."
Mr Russell was previously Minister for Environment from 2007 until 2009 and then served as Minister for Culture, External Affairs and the Constitution before moving to the role of Cabinet Secretary for Education which he held until November 2014.
He said he was "delighted and honoured" to accept the new role.
He added: "Following the overwhelming vote in Scotland to remain in the EU, it is essential that Scotland comes together to defend our national interest. Accordingly in these discussions, it is important that the nation speaks, as much as possible, with one voice.
"I will therefore want to listen and learn from the widest range of individuals, communities, organisations and companies about their hopes and fears for the future."
'Legal advice'
Mr Russell, who will report directly to the first minister, is expected to attend the second meeting of the EU Standing Council next week.
Scottish Labour's Europe spokesman Lewis Macdonald welcomed Mr Russell's appointment, and said he would "seek to work constructively" with him.
But he added: "The first item on the agenda should be a commitment to transparency with the Scottish people, by releasing the minutes of the first minister's meetings in Europe, and any legal advice that has been commissioned.
"The Scottish people have a right to know what was discussed in Brussels. Anything less would be unacceptable from the SNP."
It comes as Liam Fox, the UK government's new International Trade Secretary, held meetings in Edinburgh with the Scottish government's economy secretary Keith Brown, the Scotch Whisky Association (SWA) and CBI Scotland.
He was hearing priorities for Scottish ministers and businesses for talks on Britain's split from the European Union, while seeking new trade alliances.
In a round-table meeting, he heard the views of several industry groups, including Scotland's salmon farmers, and visited the Edinburgh factory for Italy-based defence contractor, Finmeccania.
But Mr Fox continued to be unavailable for media interview.
Speaking after the meeting, SWA chief executive David Frost said: "The Secretary of State and I discussed the need to focus on pursuing an ambitious set of new free trade deals with export markets, whilst also ensuring we continue to enjoy the trade benefits already secured for Scotch Whisky through existing EU arrangements."