Supermarket to build Lanarkshire distribution centre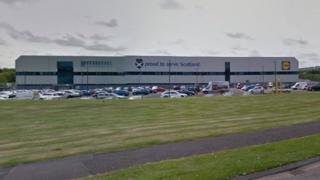 The supermarket chain, Lidl, has announced plans to build a new 58,000 square metres distribution centre at Eurocentral in Lanarkshire.
The workforce have been told their jobs can transfer and another 100 roles could be created.
The new site will replace the current 28,000 square meters warehouse in Livingston.
Lidl has been rapidly growing its share of the grocery market and has 91 Scottish outlets, with plans for more.
Lidl Manager Director in Scotland Ross Millar said: "We are firmly committed to helping boost the local economy by creating new jobs through the construction of the new distribution centre.
"The team are very much looking forward to now preparing and submitting the planning application. If approved we would hope to commence building in 2017."
Lidl says its Scottish stores can be found from Kirkwall to Stranraer.