Low wage employers in Scotland named and shamed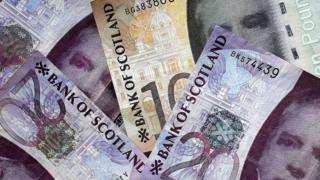 More than 20 Scottish employers who have failed to pay the national minimum wage have been "named and shamed".
The Department for Business Innovation and Skills (BIS) released the list which includes hair and beauty salons, shops and construction and engineering firms
The arrears owed to staff has been calculated at more than £44,000.
The minimum wage ranges from £3.30 to £7.20 per hour depending on age and status.
Since the name and shame scheme was introduced in 2013, more than 400 employers have been listed, with total arrears of nearly £1.2m.
Penalties handed out have passed the £500,000 mark
The Scottish businesses on the list were:
Bay Newsagents, Weymss Bay, Inverclyde, owed £12,527.97 to three workers
Little Beehive Nursery, Fife, owed £9,065.14 to seven workers
Topstaff Employment Ltd, Glasgow, owed £3,355.25 to 20 workers
Macdonalds Hotels & Resorts Ltd, Bathgate, West Lothian, owed £2,123.10 to six workers
Hairstopper Limited, Ayr, owed £2,021.07 to two workers
Susanna's Hair & Beauty, Ayr, owed £2,013.22 to one worker
K Construction (Scotland) Ltd, Edinburgh, owed £1,916.61 to two workers
Newlay Civil Engineering Ltd, Airdrie, North Lanarkshire, owed £1,860.60 to one worker
Papa Johns, Edinburgh, EH8, owed £1,811.33 to 19 workers
Sine Hair & Beauty Salon Ltd, Glasgow, owed £1,027.65 to one worker
JR's Hairdressing Ltd, Glasgow, owed £1,000.16 to two workers
Ryce Limited, Fife, owed £935.96 to one worker
Light of India, Oban, Argyll and Bute, owed £927.60 to one worker
Austen Thomson Hair, Edinburgh, owed £759.32 to one worker
Lydiafield Care Home, Annan, owed £741.67 to 13 workers
Fisher & Donaldson (St Andrews), Cupar, Fife, owed £574.32 to six workers
Vallance Hair & Beauty, Edinburgh, owed £547.20 to one worker
Craigs Courier Services, Falkirk, owed £484.90 to 1 worker
Benkaz Ltd, Shotts, North Lanarkshire, owed £266.71 to one worker
Fury Murray's (Paisley) Ltd, Paisley, owed £216.14 to one worker
AMS Hair & Beauty, Edinburgh, owed £150.00 to two workers
Assist Homecare (Scotland) Ltd, Stevenston, Ayrshire, owed £134.21 to 1 worker
Micro Fitness Ltd, Cumbernauld, North Lanarkshire, owed £104.93 to one worker