Standard Life shares rise on first-half rise in profits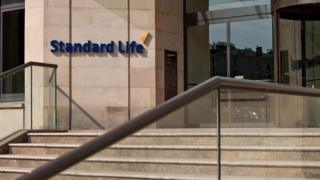 Shares in insurer and asset manager Standard Life rose after it beat analysts' expectations for the first half of the year.
The Edinburgh-based group said assets under management (AUM) grew by 7%, driven by market gains for some of its investments following the Brexit vote.
Total assets under management were £328bn, up from £307.4bn at the end of December.
Operating pre-tax profits climbed 18% to £341m.
However, net inflows fell year-on-year from £7.4bn to £4.1bn.
The board proposed an interim dividend of 6.47 pence per share - an increase of 7.5%.
By 11:00, Standard Life's share price was up by nearly 4.5%, at 332.6p.
'Elevated uncertainty'
During the first half, Standard Life increased its presence in India by lifting its stake in life insurer HDFC Life from 26% to 35% for £179m.
HDFC Life has since agreed to take over rival Max Life Insurance in an all-stock deal which would create one of India's largest private life insurers.
Standard Life would hold a 24.1% stake in the enlarged HDFC Life.
In May, Standard Life also moved to boost its advisory platform business by buying insurance group Axa's UK portfolio services arm Elevate for an undisclosed sum.
In announcing the first-half results, chief executive Keith Skeoch said: "Standard Life continues to make good progress towards building a world-class investment company, against a backdrop of volatile investment markets, by growing assets, profits, cash flows and returns to shareholders.
"Despite elevated uncertainty we are benefiting from our strong long-term relationships with a broad range of clients and customers who reacted in different ways to the changing market environment."