Registers of Scotland: Average house prices fall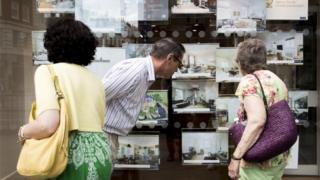 Average house prices in Scotland have fallen over the last year as the number of sales continued to increase, according to official figures.
Registers of Scotland (RoS) said the average price between April and June was £164,326, which was a drop of 2.3% on the same period last year.
The number of residential sales rose by 4.9% over the year.
A total of 25,760 properties changed hands - the highest number for the April-June period since 2008-09.
RoS said changes in the Land and Buildings Transaction Tax, which came into effect on 1 April 2016 for additional homes, may have contributed to this increase.
East Renfrewshire recorded the highest average property price at £241,364 in the latest quarter - up 11.7% on last year.
The highest percentage fall was recorded in West Dunbartonshire with an average price of £105,859 - a fall of 12.7% on last year.
There were also substantial falls in Aberdeenshire (-10.8%), Perth and Kinross (-7.1%), Dumfries and Galloway (-6.7%) and Aberdeen City (-6.1%).
The total value of sales across Scotland increased by 2.5% over the year to just over £4.2bn.
The City of Edinburgh was the largest market, with sales of more than £745.7m for the quarter.
South Ayrshire recorded the highest increase in value, with sales of about £92.2m - an increase of 27.8% compared with the same quarter last year.
Aberdeen City showed the largest decrease in market value, falling by 24.4% to £223.8m.
The highest percentage rise in the number of sales was in Argyll and Bute, with an annual increase of 24.5%, while the largest fall (-19.%) was in Aberdeen City.
RoS director of commercial services Kenny Crawford said: "The total value of the residential property market continues to make an important contribution to the Scottish economy.
"We saw a sustained increase in the volume of sales during the previous financial year and this trend is continuing in the first quarter of 2016-17."
He added: "The latest statistics reflect a robust and active property market."