Car dealer Peter Vardy posts rise in profits and turnover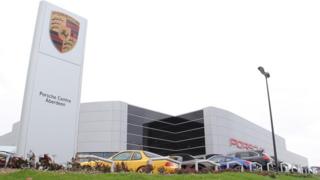 Car dealer Peter Vardy has reported strong increases in profits and turnover.
The Glasgow-based company, which operates a total of 11 dealerships across Scotland, said revenue rose by 11% to £437.2m in the year to December.
Underlying operating profits climbed by 56% to £12.1m.
Vardy said its performance had been boosted in part by its focus on manufacturing relationships and a successful digital strategy.
The company has been investing in new premises to support growth plans over the next five years.
Last year it invested £6m in a new Porsche sales centre in Aberdeen, while a new Jaguar Land Rover showroom is scheduled to open in the city next month.
Chief executive Peter Vardy said: "The group is performing ahead of its 2020 strategy after the first year and has focused its actions on six key objectives: colleague engagement, customer - or guest as defined in our business - satisfaction, developing manufacturer relationships, achieving financial performance targets, evolving digital strategies and giving 10% of profits back to charity."
The group operates six Vauxhall dealerships in Aberdeen, Perth, Kirkcaldy, Edinburgh, Motherwell and Dalgety Bay in Fife.
It also runs five prestige dealerships and an indoor used car showroom, called CarStore, at Hillington in Glasgow.
Another CarStore supermarket is set to open in Dundee.