North Sea Wood Group workers to stage 24-hour strike over pay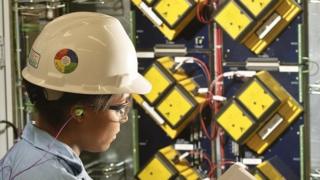 More than 300 North Sea oil and gas workers will stage a 24-hour strike next week in a dispute over pay.
It will be the first industrial action of its kind in the offshore industry in almost 30 years.
The RMT and Unite unions said their members who work for Wood Group would stage the stoppage on 26 July over the firm's plans for "swingeing" pay cuts.
The oil services firm said it was "extremely disappointed" by the decision to take strike action.
The unions said it was likely to "severely disrupt" operations on seven Shell platforms in the North Sea - Shearwater, Gannet, Nelson, Curlew, Brent Alpha, Brent Bravo and Brent Charlie.
They said the strike was likely to be followed by several further stoppages.
Wood Group provides maintenance and construction services to the installations, having signed a new three-year contract extension with Shell earlier this year.
In February, Wood Group announced it was cutting rates paid to about a third of its UK contractor workforce.
It blamed the "continuing cost and efficiency challenges affecting the UK North Sea oil and gas sector".
The unions claim workers would suffer a cut to their pay and allowances of up to 30%, but that has been denied by Wood Group.
Workers are also unhappy that a two-week working cycle has been changed to a three-week cycle without an increased salary.
Unite regional officer John Boland said: "Strike action by our members is not a decision they take lightly, but they have been pushed to the limit by an employer unwilling to rethink proposals to slash their pay and allowances.
"This is the third series of redundancies, and cuts to our members' wages and terms and conditions in the last two years.
"Our members have already made sacrifices and are experiencing the effects of the imposition of a three-week working cycle which means more time offshore and less time with their families, for the same salary."
Safety priority
He called on Wood Group to "negotiate seriously" with unions to reach a fair deal for the "highly-skilled and hardworking workforce".
A spokeswoman for Wood Group said: "Our employees' safety and welfare is our priority, and although we are extremely disappointed that they have chosen to take industrial action, we respect their right to do so.
"We continue to engage proactively and openly with our employees and the unions with a focus on reaching a resolution. Safeguarding these jobs in the North Sea now and in the future has always been, and remains, our priority."
Paul Goodfellow, of Shell UK and Ireland, said: "We are disappointed by this development and hope that Wood Group's employees and management will continue in their discussions in an effort to resolve their issues.
"Our priority is to ensure that safety will not be compromised during any industrial action."