Boeing to invest £100m in base at RAF Lossiemouth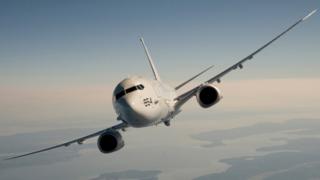 Boeing has confirmed it will invest about £100m in an operational support and training base at RAF Lossiemouth, creating more than 100 new jobs.
The move is part of a deal struck between Boeing and the UK government.
In addition to the new base, Boeing is selling nine Boeing P-8 Poseidon aircraft, which will operate from the Moray airbase alongside the RAF's squadrons of Typhoon and Tornado jets.
Prime Minister David Cameron unveiled the details at the Farnborough Airshow.
The UK government first announced plans to purchase a new fleet of maritime patrol aircraft as part of its Strategic Defence and Security Review in November.
The P-8 aircraft is designed for surveillance, as well as anti-submarine and anti-surface ship warfare.
Downing Street said at the time that the aircraft would increase protection of the UK's nuclear weapons and its latest aircraft carriers when they come into service.