Xcite Energy continues to seek partner for Bentley field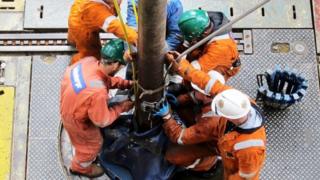 North Sea-focused oil firm Xcite Energy has announced it is continuing to seek a partner to help take its Bentley field into development.
Xcite said it had agreed principal commercial terms for funding proposals for the first phase of the project.
But it still needed a partner either to guarantee the funding package or provide funding if required.
The heavy oil development company also said negotiations for a possible bond restructuring were continuing.
Xcite holds and operates 100% of the Bentley field, which is located about 100 miles east of Shetland.
The company's headquarters are in Surrey, but its operations base is in Aberdeen.
Xcite has estimated recoverable reserves in the Bentley field at nearly 270 million barrels.
'Fully committed'
Chairman Timothy Jones said: "Despite the continuing low oil price environment, we have continued to engage with potential partners and have undertaken several due diligence processes during the past year.
"Whilst 'traditional' sources of funding for major offshore projects are continuing to stay away from the UK North Sea, we have spent a significant amount of time looking for alternative and innovative funding sources.
"We recently announced that we had agreed principal commercial terms for development funding proposals for the first phase of the Bentley project.
"Whilst we are not able to expand on the details of this proposal until it is secured, the structure does require a partner to join Xcite in the development, to either guarantee the full funding package or to provide any balance of funding required.
"In working with supportive providers of capital, who see the opportunity to fund the Bentley project at a time when development capital is in short supply, we believe that our ability to attract a guarantor partner will be improved by such a proposal, although it will still be challenging in the short term, in the current environment.
"We are fully committed to this process and concluding funding on this scale would be a major achievement in the UK North Sea."
He added: "The company has been in discussions with its principal bondholders with respect to a potential restructuring of the Bonds, ahead of their maturity on 30 June 2016, and while those negotiations have been constructive, no terms have yet been agreed."
Xcite is to hold its annual general meeting in Calais, France, on 27 July.