Half of Scottish rural pubs report sales decline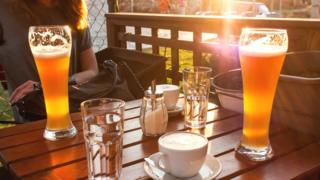 Half of Scotland's rural pubs have suffered a decline in sales over the past year, according to a survey by a trade body.
The Scottish Licensed Trade Association (SLTA) said businesses were being hit hard by the new minimum wage and stricter drink-drive laws.
Its latest quarterly survey also found that beer sales had fallen in more than half of all bars.
However, 50% of outlets reported an increase in craft beer sales.
Optimism has also increased, with 36% of businesses reporting an upturn in performance. This compared with 24% in its September survey.
The survey of 700 outlets showed pubs had been investing in improved food options. There has also been a shift to a wider range of soft drinks and non-alcoholic cocktails.
'Pub grub'
SLTA chief executive Paul Waterson said: "Our survey is an indicator of the key challenges facing the many small to medium sized businesses who trade within the wider hospitality sector, covering pubs, hotels and clubs.
"Retailers have now progressed beyond that terrible phrase 'pub grub', with many venues now offering technically-advanced dishes using an array of locally-sourced food - it is a huge growth area for our members.
"Also nearly 70% of retailers have recognised the importance of the growth in craft beer, but this is still an opportunity for the 30% of retailers who don't stock craft beer.
"Similarly in soft drinks, where we are seeing anecdotal evidence of a growth in non-alcoholic cocktails."