Business Stream buys Southern Water's non-domestic business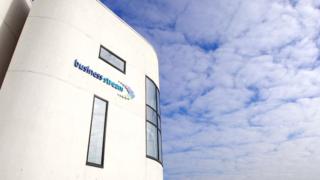 A Scottish Water subsidiary is set to expand its presence in the English market after buying Southern Water's non-domestic business.
Edinburgh-based Business Stream said the deal would create the UK's third largest non-domestic water supplier.
It will take effect from April next year, when England's business retail market is due to open up to competition.
Business Stream said the deal would almost double its customer base.
Details of the transaction have not been disclosed.
From 1 April 2017, about 1.2 million businesses and public bodies in England will be able to choose their water supplier - an option only currently available to the largest users.
Business Stream has been operating since 2008, when retail competition was introduced in Scotland.
Its existing large users south of the border include House of Fraser and Bernard Matthews.
The Southern Water acquisition means Business Stream will take on about 105,000 non-domestic customers across Kent, Sussex, Hampshire and the Isle of Wight.
The expanded business will have a UK market share of more than 10%, according to the water supplier.
'Huge opportunities'
A number of Southern Water's account managers will be transferring to Business Stream as part of the acquisition.
In addition, up to 40 new jobs will be created at Business Stream's Edinburgh headquarters to support the expanded operation.
Business Stream chief executive Jo Dow said: "The acquisition of Southern Water's customer base provides us with a springboard for growth ahead of the English market opening next year.
"The new market will create huge opportunities for Business Stream.
"We are ideally placed to secure market share by leveraging our knowledge, capability and experience, gained from eight years of operating in the highly competitive Scottish market."
---
Analysis by Douglas Fraser, Scotland business/economy editor
Nationalised companies have tended not to be expansive or acquisitive. But that's changing.
Just as a Dutch-owned company runs Scotland's railways, and much of the UK offshore oil and gas sector is owned by government-controlled investors, two of the few remaining nationalised companies in Britain are competing with private sector firms, and doing so successfully.
David MacBrayne, solely owned by Scottish ministers and which operates west coast ports and owns Hebridean ferries, is in a joint venture operating a busy military port near Southampton.
And now, government-owned Scottish Water is going a-reiving south of the border, to pick up customers from the commercial sector. It starts with a significant advantage.
For eight years, its subsidiary, Business Stream, has faced competition for non-domestic customers in Scotland. Until recently, it hasn't been worth other utility companies putting much effort into competing with it.
'Hugely dominant'
In Scotland, Business Stream is hugely dominant. But it claims to have saved its customers quite a bit of money, by helping to identify ways to reduce water consumption and waste water, and by negotiating deals with those who might otherwise be tempted to look elsewhere.
English water companies are now looking to the arrival of competition in their non-domestic markets from next spring.
Thames Water and Anglian Water have set up operations in Scotland - partly to compete with Scottish Water, but also to learn how competition works in this sector.
Given that the pipes remain the same, like the gas supply market, competition has to be fought using other means, such as price or customer service.
This could be a good time for businesses to look for some good deals on their water bills, as these companies invest to win market share.
Even the Scottish government's agencies are looking beyond Business Stream/Scottish Water to get the best deal for the public pound.
---
Scottish Environment Secretary Roseanna Cunningham said: "It is good news that Business Stream, as a publicly-owned organisation, has concluded this significant deal to provide services to Southern Water's non-domestic water customers.
"Business Stream has gained valuable experience as an operator in Scotland's non-domestic water market since 2008 and can now bring that expertise to benefit customers in the soon-to-open water retail market in England.
"We are fully committed to keeping Business Stream in public ownership but it is right that Business Stream takes every opportunity to compete in the commercial marketplace in which it operates."
Business Stream's announcement follows news early this year that Perthshire-based Castle Water will take over Portsmouth Water's business customers from next April.
The two firms struck a deal, for an undisclosed sum, in January.
Castle is already handling customer service operations for Portsmouth.
Increasing competition
Meanwhile, Business Stream is facing increasing competition in Scotland from English water suppliers.
Thames Water Commercial Services (TWCS) recently moved from its Edinburgh base into larger premises in West Lothian.
TWCS now has more than 1,300 Scottish business sites on its books and is seeking a larger slice of the £330m non-household retail market in Scotland.
In October, the Scottish government was criticised for awarding a £360m public sector contract previously run by Business Stream to a private water company.
Anglian Water Business (AWB) took over billing and meter reading services for council buildings, hospitals and prisons in Scotland in January.