Strathearn Distillery in Scottish cider brandy 'first'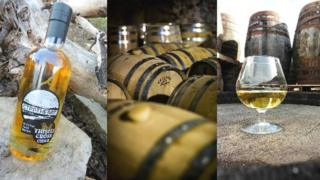 A small Perthshire distillery has laid claim to producing the first brandy made using Scottish cider apples.
Strathearn Distillery joined forces with Dunbar-based craft cider maker Thistly Cross to produce the brandy.
The drink is being released in small single-cask batches of only 200 bottles.
The two companies are hoping to emulate the success of the world-famous Calvados cider brandy from Normandy in France.
Half of the first batch has been matured in virgin French oak casks, while American oak casks have been used for the rest.
'Distilling heritage'
Peter Stuart, head cider maker at Thistly Cross Cider, said: "Cider brandy tends to be produced in parts of the world with strong cider making heritage, such as the Calvados region in Normandy.
"Traditionally, Scotland hasn't been thought of as a big producer of cider, but we've changed that perception in recent years.
"This, along with Scotland's world-renowned spirits industry, spurred us on to try something new.
"We are both proud to be contributing to Scotland's distilling heritage."