Farm sales avoid 'pause in the market' despite EU vote fears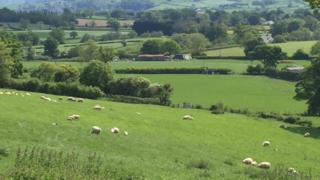 The EU referendum has had "minimal impact" on farm sales despite fears the Brexit vote would lead to a "pause" in the market, research suggests.
Estate agents Savills found a 43% increase in the amount of agricultural land for sale in Scotland.
That was compared to a small drop in land available on the market in England over the past year.
Savills said farmers were being helped by "increasing" bank support and a "strong appetite" amongst buyers.
Evelyn Channing, of Savills Farm Agency team, said: "Although it is early days for many farms launched on the open market across the length and breadth of Scotland, viewer requests and pre-emptive offers paint an unexpectedly positive picture in an industry beset with concerns.
"In addition there is a strong appetite from farmers who are looking for purchasing advice in this uncertain market."
Value for money
Ms Channing said buyers were being attracted to properties in Scotland because farmers could get more for their money compared with England and Ireland.
She added: "Demonstrating outstanding value for money has been key to generating interest.
"The farming industry is largely dependent on subsidies, and as such we anticipated a pause in market on the run up to the EU vote, but this has not been the case.
"Coming hot on the heels of the Scottish referendum and local elections, a level of fatigue has set in and the EU debate has had minimal impact north of the border as a result."