Gerry Facenna appointed to honorary Mexico role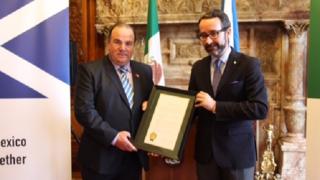 A Glasgow businessman has been appointed honorary consul of Mexico in Scotland, in a move aimed at strengthening economic, cultural and tourist links between the countries.
Gerry Facenna was inaugurated at a ceremony in Glasgow City Chambers by Mexico's ambassador to the UK.
Mexico's oil sector was opened up to foreign investment for the first time two years ago.
Drilling rights and investment are now open to international companies.
It is hoped Scottish firms can offer expertise as well as find new opportunities in Mexico as the North Sea industry suffers decline.
'Natural step'
Mexico's ambassador to the UK, Diego Gomez-Pickering, said: "Mexico has been looking at Scotland with a lot of interest lately.
"Scotland has always been a reference when it comes to sectors like the oil and gas sector.
"It comes as natural step to have a permanent representation of Mexico in Scotland."
He said other industries which had a "direct connection with Scotland" included the automotive and aerospace sector, creative industries and tourism.
'Good with people'
Mr Facenna is chairman of Allied Vehicles, which is the leading supplier of wheelchair accessible vehicles in the UK. It employs 565 people at Possil Park in Glasgow.
Allied Vehicles established a link when it started selling kits to a factory in Mexico, which is now able to make its own wheelchair accessible vehicles.
Mr Facenna said he hoped to help build similar trade relationships through his new role.
He added: "I'm good with people and hopefully I can bring companies together. I'll make things happen. That's what I'm good at.
"So if there are two companies there that I think can do business, I will bring them together."
Mr Facenna joins a network of honorary consulates recently established in Belfast, Cardiff and Manchester.