Glasgow Airport reports 'record' May for passengers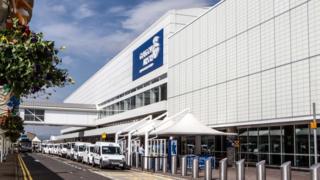 Glasgow Airport has reported its busiest May on record.
Nearly 830,000 passengers travelled through its doors last month - an increase of 5.5% on the same period a year ago.
The airport, which is celebrating its 50th anniversary, said it had attracted more than nine million passengers over a rolling 12-month period for the first time in its history.
Domestic and international traffic grew by 5% and 5.9% respectively.
The airport said domestic services were boosted by new Flybe services to Newquay, Cardiff and Exeter.
It added that demand for European destinations, including Berlin, Milan, Bucharest and Budapest, contributed to the increase in international passenger numbers.
Airport chief executive Amanda McMillan said: "Surpassing nine million passengers is a landmark for the airport and to have achieved this in our 50th anniversary year makes it particularly special.
"Our success in strengthening our connectivity with key European cities has generated significant demand from passengers which is reflected in May's figures."
Meanwhile, passenger numbers continued to fall at Aberdeen International Airport last month.
A total of 270,000 passengers used the airport - 10.4% fewer than the same period last year.
Domestic traffic fell by 13.9%, while helicopter numbers were down 15.5%.
However, international traffic dipped by just 0.5%.
'Extremely encouraged'
Airport managing director Carol Benzie said: "I have been extremely encouraged by the performance of our international traffic which clearly demonstrates the opportunity that exists for leisure capacity here in Aberdeen."
On Friday, Edinburgh Airport reported its busiest May on record after just over 1.1 million passengers boarded flights, a year-on-year rise of 8.5%.
A 15.7% jump in international travellers drove the overall increase, according to the airport.
Domestic passenger numbers were down 0.5% over the year.