Co-op agrees sale of crematoria to Dignity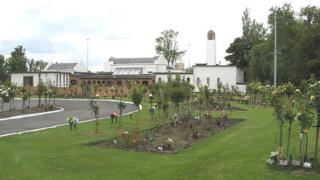 Co-op Funeralcare is to focus on its core funeral homes business after agreeing to sell its five crematoria to rival Dignity for £43m.
The deal includes the Co-op's crematorium in Craigton, Glasgow, as well as others in Shropshire, South Yorkshire, Staffordshire and Greater Manchester.
The Co-op said the terms of the deal meant no redundancies were planned.
The transaction is expected to be completed by the summer.
The mutual said it planned to focus on investment in its core funeral homes business.
Co-op Funeralcare managing director Richard Lancaster said: "This agreement is key in allowing us to further invest in providing essential funeral services to our members and customers in communities across the UK as we have done for over 100 years.
"With a limited presence in the overall market, our crematoria operation is a small part of our business, operating distinctly and separately from our funeral homes.
"The sale will enable us to invest in making our funeral home services more accessible, both in terms of our presence in new communities and by enhancing our customer proposition and services."