John Menzies in Oman Air partnership move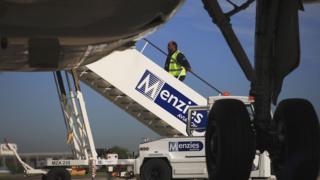 John Menzies has announced plans for a joint venture with Oman Air that would see the Edinburgh-based group provide ground handling services at all airports across Oman.
The pair have signed a Memorandum of Understanding confirming their intention to work together.
They will now enter a period of due diligence and "focus on regulatory requirements".
They aim to form the joint venture in the last quarter of 2016.
The partnership will offer ground handling at nine airports across Oman, including Oman Air's key hub operation in Muscat.
It will employ about 2,500 people and handle more than 50,000 aircraft turnarounds a year.
'Real progress'
Menzies Aviation president and managing director Forsyth Black said: "This venture represents real progress against our strategy by securing a hub location and by expanding in emerging markets.
"There is a great tradition of co-operation between British and Omani partners. We hope to add this new joint venture to that list."
The news comes two weeks after John Menzies chairman Iain Napier announced he was stepping down from the board.
He was the third high-ranking figure this year to leave the print distribution and aviation services company, which saw overall pre-tax profit for the last financial year fall by nearly a third.