Ayrshire butcher We Hae Meat wins £750,000 Co-op deal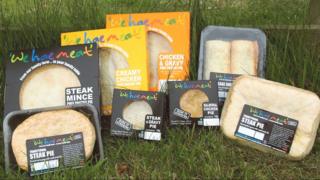 A family-run butcher is set to create new jobs after securing a £750,00 deal to expand its range of products with the Co-op.
Ayrshire-based We Hae Meat will provide nine new lines for more than 300 Co-op stores across Scotland.
The product lines range from sausage rolls to family-sized puff pastry pies.
We Hae Meat, which currently employs 61 local staff, said a total of six new jobs would be created as a result of the deal.
The company is run by husband and wife team Alex and Carlyn Paton from their Cairnhill family farm.
We Hae Meat first began working with the Co-op in 2013 with the introduction of the brand's breakfast range.
Carlyn Paton said: "Having our supply contract with the Co-op extended has been on the agenda for some time.
"We are currently building a large extension to our manufacturing facility which is based on our family farm and this is giving us the capacity to expand our supply contracts and product ranges significantly."