Operators 'expect one in six North Sea jobs to go this year'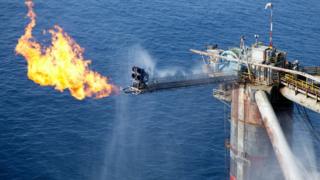 North Sea oil and gas operators expect to lay off one-in-six UK-based workers this year, according to a major survey.
Aberdeen & Grampian Chamber of Commerce said operators expected to see a 17% cut in their UK headcounts over the coming year.
That compares with an average cut of 15% seen in the last 12 months.
The chamber's 24th Oil and Gas Survey also found that North Sea contractors anticipated an average headcount reduction of 2% over the next year.
However, the survey suggested there were signs that the sector may be "near the bottom of the curve".
According to recent estimates, 65,000 jobs have already been lost in the North Sea since the sector was hit by falling oil and gas prices.
The latest survey, conducted in partnership with the Fraser of Allander Institute, found that three-quarters of North Sea oil and gas contractors were less confident about their prospects than they were a year ago.
However, confidence levels were marginally higher than their record low in November.
Just 14% reported that they were working at or above optimum levels in the UK Continental Shelf (UKCS). Just three years ago, the figure was 79%.
The survey also suggested that global pressures were taking their toll on non-UK operations, with only 27% of firms reporting that they were working at or above optimum levels overseas.
The most important factors cited by contractors as constraining their UKCS activity were level of demand (94%), commodity price (95%) and economic climate (95%).
These were followed by complex regulations (68%), taxation issues (70%) and costs of capital (71%).
Skills shortages were seen as a limiting issue by 50% of contractors.
A total of 44% of respondents said they had reduced their overall investment in the past 12 months, compared with just 11% who increased it.
The trend is expected to continue, with 42% of contractors expecting to reduce their investment over the next two years, compared with 12% expecting to increase it.
'Shard of light'
Aberdeen & Grampian Chamber of Commerce chief executive Russell Borthwick said: "Respondents have reported falls in activity, but a slightly higher number are working at capacity internationally.
"Looking a year ahead, there is perhaps a shard of light as confidence looks relatively higher for international markets.
"In the previous two surveys we carried out, we found confidence had hit record lows, with an all-time low in November 2015.
"This time, while the figure is still firmly in negative territory, it has marginally improved, which may perhaps show we are near the bottom of the curve."
A total of 85% of contractors said they expected to increase their involvement in decommissioning work over the next three to five years.
This was up from 79% in the previous survey and the highest figure since the question was first asked in 2010.
Uisdean Vass, oil and gas partner at Bond Dickinson, said: "Sometimes you have to look behind the statistics to see the true picture and that is the case with decommissioning.
"Although decommissioning will offer great opportunities it is like the funeral industry - we want to put it off for as long as possible.
"The uncertainty which all those in the industry face at the moment regarding their livelihoods continues and any slowdown in the shedding of jobs does not appear to be materialising."